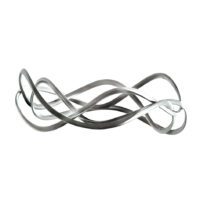 click on the image for a larger view
Sheila Fleet Sterling Silver Tidal Bangle
The Sterling Silver Tidal bangle is made up of three bangles all interwoven together. A beautiful piece that is very comfortable to wear all day long.
This design was inspired by the ever moving motion of the tides in the Pentland Firth between Orkney and Caithness. Flowing interlocking filaments in silver and gold echo the strength and timeless motion of the tide.
Size Large – We always recommend this size instead of a medium one as the 3 rows combined take up extra space on the wrist.
Supplied in Sheila Fleet presentation case.
Shop Reference: BL160
Out of stock
Our aim is to provide the same high level of service and attention to each customer
through the internet, that we have striven to achieve in our shop since 1883 for four
generations.