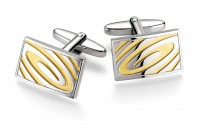 click on the image for a larger view
Sterling Silver and gold swivel cufflinks
These sterling silver cufflinks are made of a polished swirling design inset with a yellow gold plated in a matt finish. They have very sturdy swivel fittings attached and are ultimately finished with a rhodium plating to prevent tarnishing.
Made by a high quality German Jewellery manufacturer Breuning
20.8mm x 12.9mm
Supplied in a Connard & Son box
Shop Reference: 84/00066-0
Only 2 left in stock
Our aim is to provide the same high level of service and attention to each customer
through the internet, that we have striven to achieve in our shop since 1883 for four
generations.