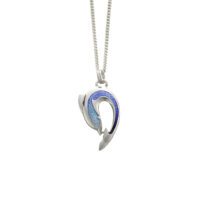 click on the image for a larger view
Sheila Fleet Sterling Silver and Enamel Dolphin Pendant
Sterling Silver and enamel oval Dolphin pendant and necklet adjustable between 40 and 45cms. Always a very popular piece and perfect with the matching earrings.
Sheila's Notes – Dolphins are amazingly graceful creatures of the sea which have fascinated over generations. These designs reflect their elegant shape and beauty using striking Ocean Blue enamels.
Enamel Colour: Light Ocean
Size: 16mm x 10mm
RRP £80.00
Shop Reference: EP110
Only 1 left in stock
Our aim is to provide the same high level of service and attention to each customer
through the internet, that we have striven to achieve in our shop since 1883 for four
generations.