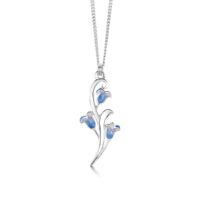 click on the image for a larger view
Sheila Fleet Sterling Silver and Enamel Bluebell Pendant
Sterling Silver and enamel Bluebell pendant on adjustable necklet between 40 and 45cms. The very latest collection to be added by Sheila for 2016. Such beauty from such small flowers. Matching pendant and bracelet available.
Sheila's Notes – A hardy flower, bluebells have been growing in Orkney gardens for as long as I can remember. I used bunches of bluebells from under the trees in my own garden to design this collection.
Enamel Colour: Bluebells
Size: 41mm x 18mm
RRP £97.00
Shop Reference: EPO242
Only 1 left in stock
Our aim is to provide the same high level of service and attention to each customer
through the internet, that we have striven to achieve in our shop since 1883 for four
generations.