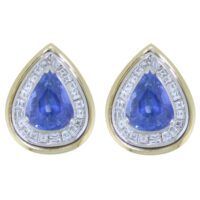 click on the image for a larger view
Sapphire and diamond large pear shaped cluster earrings, 18k gold mounts
A magnificent pair of large pear shaped Sapphire and diamond cluster earrings. The sapphires are a lovely Ceylon colour and are surrounded with calibre cut square diamonds running around the central sapphire, the sapphires and diamonds are set in 18K white gold and surrounding this is 18k yellow gold.
The earrings have a clip and post fitting, but what makes this also unusual is tat the post is threaded and can be removed to allow the earrings to be worn as clip earrings by customers without their ears pierced.
2 Sapphires = 7.96 carats (3.83 and 4.13
44 Diamonds = 2.00 carats approx
Measures 2cms long x 1.7cms wide
Second Hand
Shop Reference: Q403/2
Our aim is to provide the same high level of service and attention to each customer
through the internet, that we have striven to achieve in our shop since 1883 for four
generations.