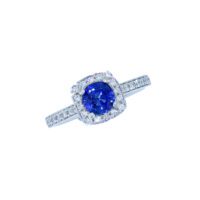 click on the image for a larger view
Sapphire and Diamond cushion cluster ring, 18ct White gold mount
A beautiful Blue Sapphire in a cushion cut, set in to a halo of modern brilliant cut diamonds, this cluster is then set with a further run of diamonds down the shoulders and all mounted in 18ct White gold settings. The sapphire is set with 4 classical claws and the diamonds are set in a very neat smooth millegrain effect.
The cluster itself is made so that it will sit flush next to a wedding ring or similar.
Sapphire = 0.93 carat
16+14 Diamonds = 0.28 carat
This can be made in other sizes than shown, however it would be a new ring made to Order which would take longer to supply. Please contact us for further details
Shop Reference: P106/4
Our aim is to provide the same high level of service and attention to each customer
through the internet, that we have striven to achieve in our shop since 1883 for four
generations.