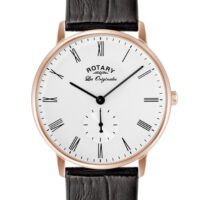 click on the image for a larger view
Rotary – Gents Rose gold plated Kensington Strap Watch
The Rotary Men's Les Originales Kensington watch features a large white dial set inside a bezel to present a wider face. The stainless steel case has a rose gold plated finish. The black leather strap contrasts perfectly. This watch is powered by a quartz movement. This watch is water resistant to the Rotary Dolphin Standard.
Diameter: 38mm
Glass: Sapphire Scratch Resistant
Warranty: Rotary Lifetime Guarantee*
Swiss Made
Supplied in Rotary Watch box
Official Stockists
RRP £229.00
Shop Reference: GS90053/01
Our aim is to provide the same high level of service and attention to each customer
through the internet, that we have striven to achieve in our shop since 1883 for four
generations.