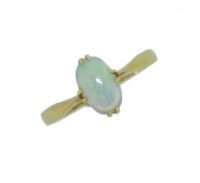 click on the image for a larger view
Opal single stone ring, 18ct yellow gold mount
This opal single stone with a lovely elongated oval shaped opal is mounted in all 18ct yellow gold, the setting is a 4 double claw setting which is both secure and neat. The shank for the ring has a beautiful taper up to the opal.
This is a typical opal ring from the 1920's and this has been looked after well and unlike many opal rings is not in a small finger size.
Measures 9.3mm x 6.3mm
Birmingham 1924
Second Hand
Shop Reference: S157/4
Our aim is to provide the same high level of service and attention to each customer
through the internet, that we have striven to achieve in our shop since 1883 for four
generations.