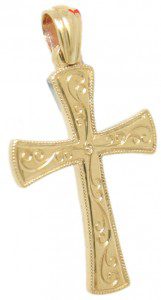 click on the image for a larger view
9ct yellow gold Gold Flared cross Floral hand engraving
9ct gold hand engraved floral pattern and bead edge cross with flared out shape and pendant loop, measures 27mm x 19mm excluding the loop.
Handmade in England and cut from one solid sheet of gold
Hallmarked on the side so it can be worn either engraved side or plain.
Shop Reference: X962/E136
Only 1 left in stock
Our aim is to provide the same high level of service and attention to each customer
through the internet, that we have striven to achieve in our shop since 1883 for four
generations.