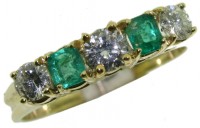 click on the image for a larger view
Emerald and diamond eternity ring
Emerald and diamond 5 sone half eternity ring, mounted in all 14K yellow gold mount.
There are 3 modern brilliant cut diamonds, alternating with a square cut emerald, all slightly graduated with the central diamond the largest, all of the stones are in 4 claw yellow gold settings with a 14K below gold two row shank.
3 Diamonds = 0.50 carat approx.
Second Hand
Measures 4.4mm x 17.8mm overall
Shop Reference: J90/3
Our aim is to provide the same high level of service and attention to each customer
through the internet, that we have striven to achieve in our shop since 1883 for four
generations.