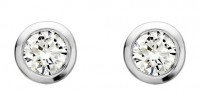 click on the image for a larger view
Diamond Single Stone Solitaire Earrings 0.31ct, 18ct White Gold Rub Over Mounts
Diamond single stone earrings, 18ct white gold rub over mounts.
Modern brilliant cut diamonds mounted in a smooth rub over finish, giving a very neat finish, that also looks larger in the mount, white gold post and high quality butterfly fittings.
2 Diamonds = 0.31 carat
Overall earrings 4.5mm diameter
Shop Reference: X548
Out of stock
Our aim is to provide the same high level of service and attention to each customer
through the internet, that we have striven to achieve in our shop since 1883 for four
generations.