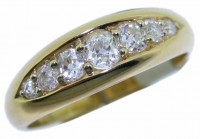 click on the image for a larger view
Diamond seven stone Pea Pod ring
Diamond seven stone graduated half eternity ring set in 18ct yellow gold Pea Pod mount.
The diamonds are all Victorian cut diamonds, they are graduated in size across the finger with the central one being the largest. The style of setting is what makes this ring very different, it is called Pea Pod because it is set like a pea pod when split open. The diamonds are all set very smoothly and quality is superb.
7 Diamonds = 0.75 carat approx.
Measures 18mm x 6.5mm overall
Second Hand
Birmingham 1888
Shop Reference: Y44/4
Our aim is to provide the same high level of service and attention to each customer
through the internet, that we have striven to achieve in our shop since 1883 for four
generations.