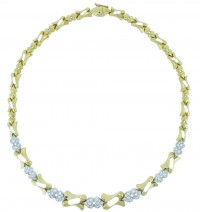 click on the image for a larger view
Diamond and 18ct yellow gold Collarette Necklet
This beautiful necklace consists of twin pave diamond set hearts alternating between swirls of 18ct yellow gold links. The necklace itself graduates fro front to back so that when it is worn it sits neatly and elegantly around the neck. There are 7 pairs of diamond set hearts making a total of 14 diamond set hearts all set with modern brilliant cut diamonds.
The necklace is very flexible and each link is hinged making for greater comfort when worn. This is a very beautiful piece, that will be the sort of piece that would be worn often as opposed to just for going out.
Length: 18 inches
Largest Gold link 13mm wide
Shop Reference: heart collar
Our aim is to provide the same high level of service and attention to each customer
through the internet, that we have striven to achieve in our shop since 1883 for four
generations.