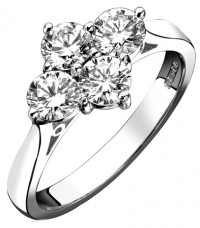 click on the image for a larger view
Diamond 4 Stone Cluster Ring, 0.77ct Platinum claw Mount
Diamond 4 stone cluster ring, platinum claw setting and shank.
All of the diamonds are modern brilliant cuts, and are set at 12,3,6 and 9 to create a Kite shape across the finger. The diamonds are set very close to each other so you see only diamonds and not large gaps in between. Each diamond is held in place with neat platinum claws and on a platinum Shank.
4 Diamonds = 0.77 carat
Measures 11.3mm wide
Shop Reference: A55/4
Our aim is to provide the same high level of service and attention to each customer
through the internet, that we have striven to achieve in our shop since 1883 for four
generations.