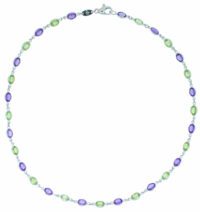 click on the image for a larger view
Amethyst and Peridot 18ct White Gold Necklace
An Amethyst and peridot necklace alternating gemstone necklet. Each gemstone is a very bright oval cut stone held in an 18ct hallmarked white gold smooth rub over gold mount with small links in between, these beautiful handmade Italian pieces are lovely to wear all day.
This particular piece is a one off and only available in the 16 inch length.
The gemstones are 5.1mm wide in their mounts.
Shop Reference: S389/4
Our aim is to provide the same high level of service and attention to each customer
through the internet, that we have striven to achieve in our shop since 1883 for four
generations.