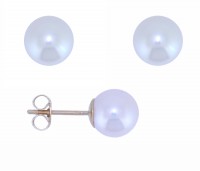 click on the image for a larger view
Akoya Cultured Pearl single stone earrings 5.5 – 6.0mm 9ct yellow gold mounts
These Akoya cultured pearl single stone earrings have extremely fine quality skins – AAA grade. The high lustre makes them sparkle in the ear. They are each individually checked for size and colour match. They have neat 9ct yellow gold fittings.
Akoya cultured pearls produce some of the finest pearls, with an almost perfect roundness, they are a timeless design of earring that will literally take you anywhere.
Secured high quality butterfly fittings
Measure 5.5 to 6.0mm diameter
Shop Reference: CPE-5.5/6
Our aim is to provide the same high level of service and attention to each customer
through the internet, that we have striven to achieve in our shop since 1883 for four
generations.