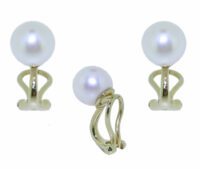 click on the image for a larger view
Akoya Cultured Pearl 9.1mm single stone earrings 9ct yellow gold Clip Mounts
These Cultured pearl clip earrings are made to be comfortable for wearing all day. They have the security of a tight mechanism, but have a padded section of smooth gold that sits to the lobe. They are easy to apply and can be tightened or loosened.
A most classical look of a single pearl is hard to beat, they can be worn anytime of day or night.
The Akoya Cultured pearls are regraded as being one of the best pearls that can be found. This pair are a large 9.1mm diameter. The Akoya produce a far more rounded shape and more lustrous finish than Freshwater for a single pearl earring.
Secured with the highest quality German Clip fittings
Measures 9.1mm
Shop Reference: X520
Available on backorder
Our aim is to provide the same high level of service and attention to each customer
through the internet, that we have striven to achieve in our shop since 1883 for four
generations.