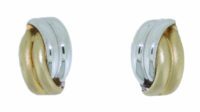 click on the image for a larger view
18ct White and yellow gold Stud Earrings
These 18ct white and yellow gold earrings are made for wearing everyday, they have the 2 curving rows of white gold being a highly polished finish contrasting with the 2 curving rows of matt yellow gold.
These are ideal for wearing everyday being neat and comfortable to wear.
Secured with traditional butterfly fittings
Measures 10mm x 7mm
Shop Reference: AD/165174/7
Out of stock
Our aim is to provide the same high level of service and attention to each customer
through the internet, that we have striven to achieve in our shop since 1883 for four
generations.